Summer is a time for being outdoors, relaxing, and enjoying some fantastic food and company. Naturally, it's the perfect time for picnics, so we suggest you stock up on your favourite goodies and head to one of the best picnic spots in Sydney or around NSW.
1. Bradfield Park
Pull up a blanket and find yourself a spot at Bradfield Park, undoubtedly one of the best places to see in Sydney, let alone a wonderful location for a picnic.
This park is located at Milsons Point on the northern side of the Sydney Harbour Bridge. You'll sit on the green grass by the waterfront and enjoy views of the bridge soaring above you, as well as the harbour and city.
It's also right next to Luna Park if you're looking for an activity following your picnic.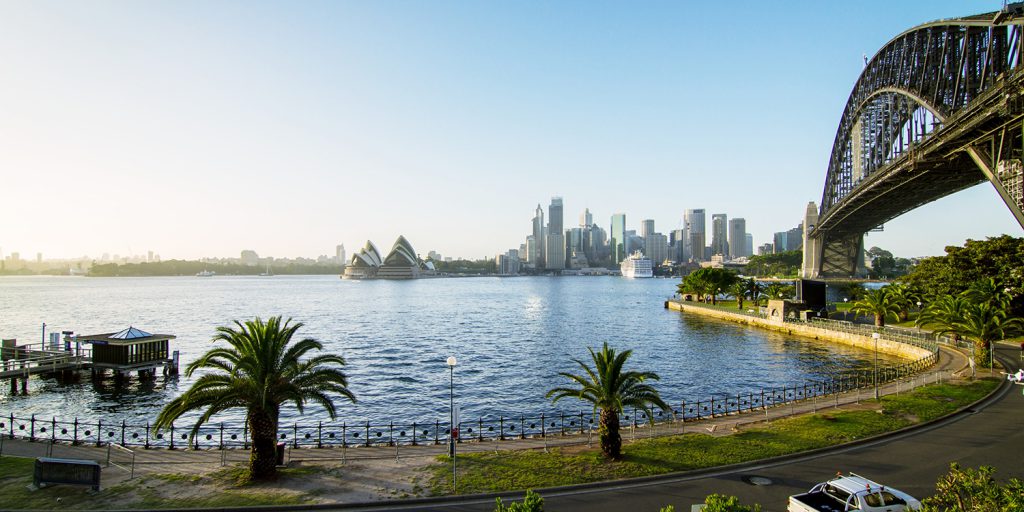 2. Ku-ring-gai Chase National Park
Ku-ring-gai Chase National Park feels like it's almost on another planet to Sydney CBD, but it is in fact just 45 minutes north of the city.
There are countless spots throughout the park that are excellent picnic locations, but it's hard to beat the Apple Tree Creek Picnic Area at the start of the Berowra Walking Track.
Sit under the shade of a tree on a grassy spot by the waterfront and watch as small boats bob in the harbour. There's a cafe on site if you forget anything, and walking tracks nearby if you ate too much cheese.
3. Fitzpatrick Park
Fitzpatrick Park is located in an area literally known as Picnic Point, NSW.
It's lush and green with the inviting Georges River flowing through it, adding the option of stand-up paddle-boarding and boating after your picnic.
It's also just 45 minutes from Sydney, making for an easy day trip with the family.
4. Leura Cascades Picnic Area
The Leura Cascades Picnic Area is one of the best picnic spots in the Blue Mountains.
Surrounded by waterfalls, birdlife, and thick forest, this area is a relaxing hideaway simply made for a long picnic on the grass. There are few facilities in the area, but you can pick from a variety of walking tracks once you've finished your meal.
5. Pinnacle Reserve and Lookout
Fancy a romantic getaway picnic? Make your way to Orange and the Pinnacle Reserve Lookout for one of the best picnic spots in the Hunter Valley.
This spot is particularly beautiful at sunset, and is adorned with shady gum trees for hot days, and picnic shelters for an easy set up on arrival. There are also barbecues for a hot dinner, and toilets on site so you can stay a while.
Your view from the top includes the Tweed Valley, World Heritage-listed rainforest, the crater escarpment, and Mount Warning.
Keep in mind that there is a 15 minute walk from the carpark to the lookout, so leave the heels at home for this one.
6. Mrs Macquarie's Point
Located in the Royal Botanic Gardens, this NSW picnic spot offers stunning views of the Sydney Opera House, Harbour Bridge and the Sydney Harbour itself, making it the perfect spot to relax and soak in natural beauty around the city.
There's plenty of grassy areas where you can spread out a blanket and enjoy a meal, as well as a few small shelters if you need a break from the sun. Bring a basket of sandwiches and drinks to experience utter bliss.
A popular spot for wedding photographers and proposals, this NSW picnic area is quite the romantic spot to take a loved one. To get to Mrs Macquarie's Point, take a ferry from Circular Quay or walk through the garden; the point is open from sunrise to sunset and admission is free.
7. Blackwattle Bay Park
Located in Sydney's Inner West, Blackwattle Bay Park is small in size, but offers stunning views of the harbour. In addition to the beautiful views, the park is a popular spot for cyclists and those out for a daytime jog, given the network of paths winding through the park.
One of the best parts about Blackwattle Bay Park is the wildlife on offer – share your day with some ducks, swans, or even the occasional pelican!
There's plenty of space to set your blanket down and enjoy a drink or two from your esky. But, in case you'd rather grab something to eat or drink, there's a score of delicious restaurants and cafes nearby. Check it out!
New South Wales offers a smorgasbord of exception picnic spots, and you could visit a new one every weekend of the year without ever running out of beautiful places to see. Book your SIXT car rental so you can discover the best picnic spots in NSW with locations starting at Sydney airport and dotted through the city and in regional NSW. Want to drive in style? Check out our luxury car rental range in Sydney.