Enjoy the Scottish Highlands with Sixt car hire Edinburgh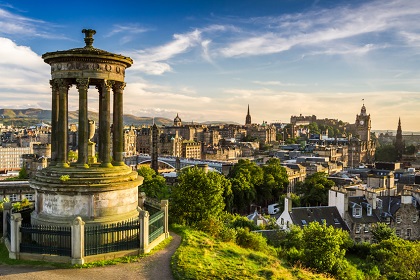 With our Edinburgh car rental stations you can choose from a variety of cars, including economy options, family saloon and estate cars, and even 4x4s. For those travelling in larger groups, perhaps opt for a minibus hire in Edinburgh. Car hire in Edinburgh can also include a variety of extras here, such as child car seata and Sat Nav devices. Students ought to be particularly excited to stay up-to-date with our student offers, which ensure that every penny counts when you book with Sixt.
Things to see with car rental Edinburgh
There are a huge range of things to see and do with car hire in Edinburgh.
Take trip to the Old Town, famous for its medieval Royal Mile between Edinburgh Castle and Holyrood Palace, lies to the south. The shopping haven of New Town's Princes Street sits to the north.
Head to one of East Lothian's award-winning beaches, such as Belhaven or Gullane, or to the nearby Scottish Seabird Centre for a glimpse of some of the world's largest gannet and puffin colonies.
South of Edinburgh you can find the 15th century Rosslyn Chapel, and from there it's a short drive to Pentland Hills, home to several peaks over 500m providing ample opportunities for hill walking and lots of fantastic views.






Other Car Hire Categories in Edinburgh

Luxury Car Hire
Edinburgh

Convertible Hire
Edinburgh

Wedding Car Hire
Edinburgh

Long Term Hire
Edinburgh

4x4 Hire
Edinburgh

Minibus Hire
Edinburgh

Van Hire
Edinburgh

Truck Hire
Edinburgh

li.luxcat { display:block; margin-left:auto; margin-right:auto; } li.convcat { display:block; margin-left:auto; margin-right:auto; margin-bottom:-3px; } li.wedcat { display:block; margin-left:auto; margin-right:auto; margin-top:16px; } li.ltcat { display:block; margin-left:auto; margin-right:auto; margin-top:8px; } li.4x4cat { display:block; float:left; margin-left:auto; margin-right:auto; margin-bottom:-10px; } li.buscat { display:block; float:left; margin-left:auto; margin-right:auto; margin-top:20px; } li.vancat { display:block; float:right; margin-left:auto; margin-right:auto; margin-bottom:-10px; } li.truckcat { display:block; float:right; margin-left:auto; margin-right:auto; margin-top:20px; }