The Sydney to Gold Coast drive is bordered by a beautiful array of lush wilderness, turquoise blue beaches and seaside towns. And whether you're planning to leisurely make your way up north with plenty of time up your sleeve or are looking to pick up a leg of the journey for your next weekend away, our Sydney to Gold Coast road trip itinerary is a great place to start.
If you're from elsewhere in Australia or overseas, save yourself the dead miles and fly in and pick up your car hire from Sydney airport or another convenient Sydney location. This way you can keep all your break dedicated to what you came here to do. 
You'll soon be cruising alongside stretches of pristine beaches, stopping in at different ports and villages to try the local foodie scene in between. The beauty of driving is the choice is yours of where to go and when, with our helpful guide supplying the inspiration you need to get started.
Driving from Sydney to the Gold Coast: Quick Facts
How long does it take to drive from Sydney to the Gold Coast?
The Sydney to Gold Coast drive is approximately 9 hours. But to make the most of the best stops along the way, you can expect to spend around 11-13 hours on the road.
How long to spend road-tripping Sydney to the Gold Coast?
Our Sydney to Gold Coast road trip covers all the tops stops, allocating 8 nights and 9 days for exploring before a comfortable arrival at the final destination. But if you need to quicken the pace, you can skip some of the shorter stops or hire your car from Port Macquarie or Coffs Harbour and start the trip further north. 
Sydney to Gold Coast distance
A direct Sydney to Gold Coast drive is approximately 845 km, with our itinerary covering around 1,000 km.
Is it worth driving from Sydney to the Gold Coast?
The incredibly scenic road trip from Sydney to Gold Coast is one of Australia's best drives. It hugs the coastline the entire way, offering some incredible views and plenty of seaside towns for relaxing and easy stops. From hidden aquatic treasures to the magic of the hinterlands, it's far from a boring highway drive and well worth adding to your road trip list.
How much is it going to cost in fuel to drive from Sydney to the Gold Coast?
To complete this Sydney to Gold Coast drive, the average price you'd expect to pay in fuel is around $200. This is for a one way trip, based on NRMA's most recent (at the time of writing) fuel report and average litres per 100km.
Though, this is if you're not hiring an electric vehicle, which would make the 1000ks a lot cheaper and perhaps a little more special, too.
Sydney to Central Coast
Drive distance: 95 km – 1.5 hours
Recommended days: 1 days, 1 night
Pickup your car directly from Sydney airport and hit the road to save on those city hotels. If you're already a Sydneysider, pick up your choice of car rental at Hornsby, Parramatta or whichever branch is most convenient for you. 
Where to stop: Pie In The Sky – It's on the old pacific highway, which is so worth taking, even if just for this pit stop. Grab a coffee and sample some of the greatest Aussie meat pies right there on the Pacific Highway. The perfect way to start your Sydney to Gold Coast road trip.
Top tips:
Take a coastal walk – The Central Coast is a hiking haven, with plenty of short and long trails to choose from. If you're up for a long journey filled with epic views, secluded bays and whale watching, the 8.5 km Bouddi Coastal Walk can't be beaten. Or, for something a little more leisurely, take the 1-hour scenic stroll from MacMasters to Little Beach, and with any luck, you'll have the secluded cove all to yourself at the end.
Enjoy some post-hike sundowners – Is there anything better than sipping a cold drink while overlooking a sunset on the coast? We don't think so. If you've just worked up a thirst on a hike, find a spot on the terrace at the Terrigal Beach House for a spritz with a side of sea breeze or head to the Cali-cool Shady Palms at Avoca Beach for a serving of champagne and oysters.
Foodie heaven – You don't have to look hard to find some incredible restaurants on the Central Coast. The Cowrie and Yellowtail are two superb choices for modern Australian cuisine, and the freshly-made pasta at the Gusto Italian Bistro brings the taste of Northern Italy to Ettalong Beach.
Rest your head – Sink into a king-size bed in a Hamptons-inspired room at The Quarters or choose from a range of camping, glamping and villa options at the NRMA Ocean Holiday Resort. Rest up and get ready to hit the road in the morning – adventure awaits!
Central Coast to Port Macquarie
Drive distance: 329 km – 3.5 hours
Recommended days: 2 days, 2 nights
Where to stop: If you've opted for an electric vehicle rental, you'll find a Chargefox location (free charging for SIXT customers) in Karuah, as well as at the Oxley Highway turn off as you head into Port Macquarie.
Top tips:
Sand dune adventures – As you leave the Central Coast, head north an hour and a half towards Nelson Bay, and you'll wind up at Worimi National Park. The vast and shifting sand dunes are a sight to behold and a playground for all kinds of adventures. Saddle up a horse, ride a camel, or try sandboarding down the dunes. A fantastic experience!
Myall Lake – For your next overnight stay on your road trip from Sydney to Gold Coast, we highly recommend the water playground of Myall Lake. Stay in an Eco Treehouse and in the morning head to one of Australia's most beautiful hidden beaches, Seal Rocks. The impossibly blue ocean looks even more dramatic from above and the walk up to Sugarloaf Point Lighthouse is well worth it.
7 Mile Beach detour – When you're ready to hit the road again, take the long route via 7 Mile Beach for a better view out the window before rejoining the M1 up to Port Macquarie. This way, you'll also bypass Forster, home to a large number of bottlenose dolphins which can often be spotted in the water.
Visit the Koala Hospital – Settle in for the night in Port Macquarie, and in the morning, head to the Koala Hospital, a wildlife rehabilitation facility dedicated to rescuing and rehabilitating our native fauna. Afterwards, grab a coffee and some brekkie at the bright and breezy Frankie's before hitting the road again.
Port Macquarie to Coffs Harbour
Drive distance: 159 km – 1 hour 45 mins
Recommended days: 3 days, 2 nights
Where to stop: Stop for fuel at the Caltex in Kempsey for plenty of food options, parking and restrooms.
Top tips:
Crescent Head lookout – Break up the drive with fresh air and a breathtaking view.
Stop for lunch in Nambucca Heads – Take advantage of the surrounding Nambucca Valley farms and stop in for some local food at one of the restaurants or ensemble your own picnic from the roadside stalls.
Explore the river – Make the most of the calm waters of Nambucca River and hire a boat, kayak or stand-up paddle board. Cruise along until sunset or take a cheeky nap on one of the banks before jumping back in the car to reach Coffs Harbour for dinner.
Take a drive around Waterfall Way – Wake up the following day and get ready to chase some waterfalls. From Coffs, drive towards Bellingen and pass by lush rainforest, river valleys and (you guessed it) plenty of roadside waterfalls. Waterfall Way is one of the top highlights of the Sydney to Gold Coast drive – if you're keen to take a little longer or stretch your legs, there are plenty of hiking trails here.
Visit Dorrigo – For a spot where you can stop, hike around and plunge yourself into one of the waterfalls, you can't beat Dorrigo. The picturesque Dangar Falls is a favourite and offers easy access for a refreshing swim at the base. Cool off before heading back to Coffs for dinner – fish and chips by the beach are always a classic.
Swing by The Big Banana – On your last morning in Coffs, take a coastal walk before grabbing your morning brew at Supply. Then on your way out of town, stop at The Big Banana for an iconic road trip photo.
Coffs Harbour to Byron Bay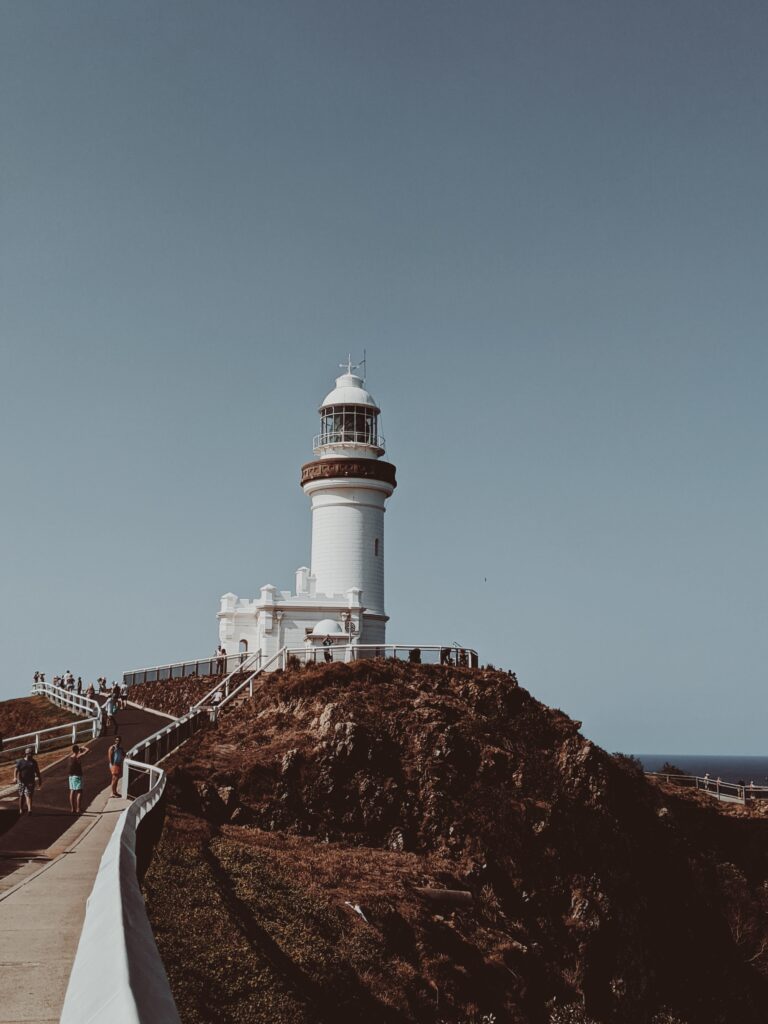 Drive distance: 233 km – 2.5 hours
Recommended days: 3 days, 3 nights
Where to stop: If The Big Banana wasn't enough of a treat for your Sydney to Gold Coast road trip, consider cruising by The Big Prawn too. While it's no longer a service station, you'll find one just 3 minutes down the road to give you a full tank for Byron or stop at Ballina for a Chargefox charging station.
Top tips:
Hike to the lighthouse – With so much to do in Byron Bay, you'll want to get there right away. Start with the popular Cape Byron Walking track, where you'll stroll past sweeping ocean views (and perhaps a dolphin or two) before reaching the beautiful lookout of the lighthouse.
Go kayaking with dolphins – To increase your chances of spotting some majestic animals in the wild, head out on the clear, shallow waters of the beautiful Brunswick River via a guided kayak tour. Dolphins, turtles and stingrays have been known to join the adventure.
Explore the beautiful, tiny surrounding towns – Unspoiled villages are scattered throughout the Byron Bay hinterland, with countryside left precisely how it has always been. Nearby Mullumbimby, Bangalow, Clunes and Alstonville are all worth a visit. You can pick up a hire car from Ballina and Byron Bay if you've arrived by other means.
Snorkel the reef – Julian Rocks is a top spot for snorkelling in Byron Bay, where you're likely to encounter manta rays and reef sharks among smaller fish species on the well-run tours. Or grab your own snorkel and head back to Brunswick River. The water is surprisingly clear at high tide for snorkelling, too– just be careful of the sharp oyster shells as you get in and out.
Byron Bay to Gold Coast
Drive distance: 177 km – 2 hours 38 mins
Recommended days: 1 day to reach your final destination
Where to stop: Make the last leg of your road trip from Sydney to Gold Coast memorable by stopping at Moo Moo Roadhouse. Milkshakes, motorbikes and memorabilia – need we say more?
Top tips:
Travel inland – From Moo Moo, you'll already be heading towards some of the magical hinterlands that lay southwest of the Gold Coast. Type 'Natural Bridge' into your GPS, and you'll soon come across an enchanting arched cave with a waterfall plunging from above.
Tick off the best lookouts – Make the most of the surrounding Springbrook National Park by heading to Canyon Lookout and Twin Falls next. Sit for a few minutes and soak up the sounds of running water while breathing in the cool rainforest air.
Head back inland to the Gold Coast – From Springbrook, you're just an hour away from the end of your road trip from Sydney to Gold Coast. What adventure lies next is up to you, with flexible returns available for your car hire at the Gold Coast airport.