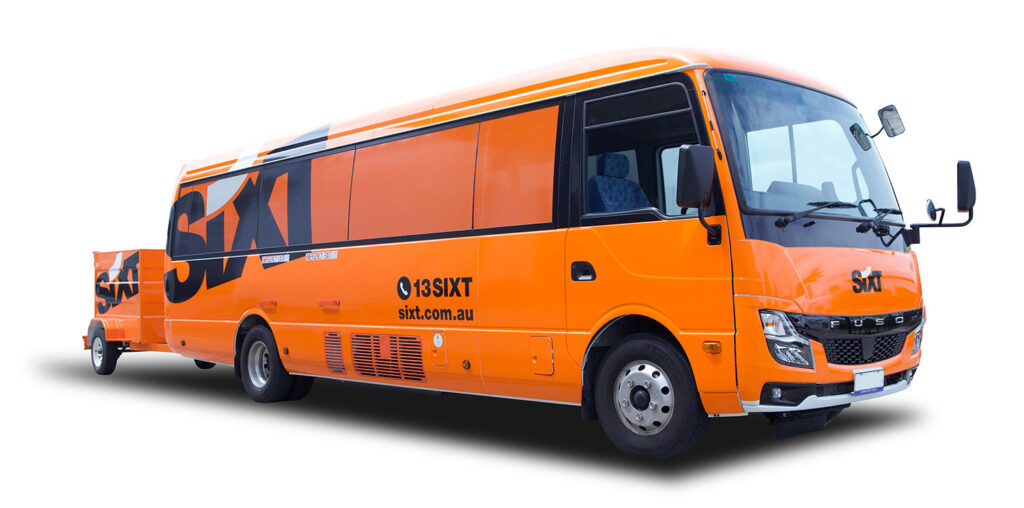 Sometimes, a car rental (even a spacious one) simply isn't enough to get everyone where they need to go. Whether it's a one-off family holiday or an ongoing work project, a bus hire can be the ideal solution for moving a large group of people.
SIXT is well stocked with a range of buses suitable for all occasions. An 8-seater van hire is ideal for families looking for extra space on their road trips, and small groups such as sports teams and workplaces. A 12-seater van hire is perfect for that entire team plus a few supporters, and the larger mid-sized buses and coaches can fit large groups of 20, 25, and 40.
With so many options, it can be tough to make a decision on which bus is best suited for the task at hand. If you're at all unsure about which van, mini-bus, or coach to hire, don't hesitate to get in touch to talk to our helpful staff.
We offer bus rental locations all over Australia, so you'll never need to go far to pick up your bus and get everyone on the road.
For the large family
8 seater people mover
Car licence
Automatic
Petrol or diesel
Up to 8 passengers
The 8-seater van hire – also known as a people mover – is ideal for those family getaways. It offers enough space for the whole crew, plus bags and backyard-cricket sets.
For the sports team
12 seater bus hire
Car licence
Manual or automatic
Petrol or diesel
Up to 12 passengers
A 12-seater van hire is an ideal solution for sports teams with bags of equipment, small work crews, or even for taking a group of friends away for the weekend.
For the entire workplace
20-25 seater bus hire
Truck licence
Manual or automatic
Diesel
20-25 passengers
A mid-sized bus rental with 20-25 seats is popular amongst businesses for taking the entire crew on team-bonding trips.
For a school event, wedding or birthday party
40 seater coach rental
Truck licence
Automatic
Diesel
40 passengers
For those celebrations where you bring together all of your friends and family, be it a wedding, school outing or birthday party, a 40-seater coach rental will be just the right size.
Visit sixt.com.au for all your passenger and commercial vehicle rental needs.